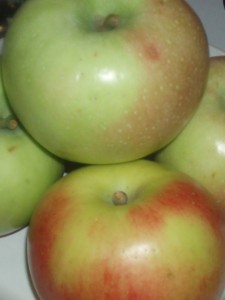 Wondering what to do with the remaining apples from your trip to the orchard or looking for a clever, seasonal drink recipe for your next gathering? Put a spin on a great classic by serving up Apple Harvest Citrus Sangria.
Ingredients:
2 red apples
1 750 ml bottle white wine
1/3 cup peach schnapps
1/4 cup brandy
1/4 cup agave nectar
1 orange, quartered
1 lemon, quartered
1 lime, quartered
2 cinnamon sticks
1/2 in. x 1/2 in. chunk of peeled fresh ginger
4 whole cloves
2 Tbsp sugar
1/2 tsp ground cinnamon
1/4 cup club soda
Directions: 
Wash, core, and chop up one of the red apples; set aside.
In a glass bowl, stir together the wine, schnapps, brandy, and agave nectar, then add the chopped apple, orange, lemon, lime, cinnamon sticks, ginger, and cloves, stir and set in refrigerator at least 8 hours; overnight is fine.
Remove mixture from refrigerator and put a mesh strainer over a bowl and strain the mixture through; discard the solids.
Wash, and core the other apple for garnish; slice into circles, and then into crescents.
On a little plate, mix the sugar and cinnamon together then lightly moisten the rims of the glasses you will be using and dip lightly into the sugar cinnamon mix.
Put a couple ice cubes into each glass; pour the strained sangria into the glasses until about 3/4 full, then add a splash of club soda to the glass, then place an apple garnish on each rim, serve and enjoy!