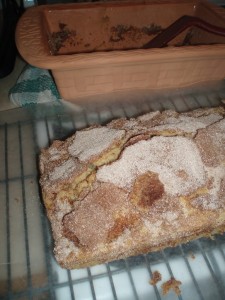 Bread is my weakness.  I can hardly resist a fresh loaf.  The smell, the texture, the richness of grains, and the endless possibilities of flavor combinations for sweet bread – all are so enticing!
One thing I don't like, though, is an over-baked or sad-little-loaf that's had the moisture sucked out of it. Nope, no dry, lifeless breads for me.
But, it's not always easy to achieve a perfect bread crust and moist inner.  Timing is everything, but sometimes no matter how you prep or cook it, you wind up with a hard outer crust, a dry middle, or worse, a burnt bottom.
The Reco Romertopf Bread Baker is designed with bread lover's in mind, making it easy to turn out a moist and delicious loaf every time.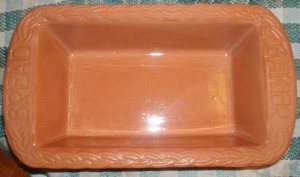 The secret lies in the specially selected porous clays that are used to create the Romertopf Bread Baker. Prior to baking in the oven, the baker is soaked in water for five to ten minutes.  As the clay is heated in the oven, the water molecules turn to steam, which then cooks the dough producing an exceptionally moist, fragrant and tasty loaf of bread. The moisture also keeps the bottom of the bread baker at about 220 degrees making burning virtually impossible.
I tested out the yummy-looking "Cinnamon Coffee Bread" recipe included with the Romertopf Bread Baker instructions and it turned out turned out to be a wonderfully delicious, perfectly baked, moist treat – almost a coffee cake-like bread, it's certainly one I'll be making again! Especially now that I feel quite confident I can't mess up the process and will have a fabulous end result.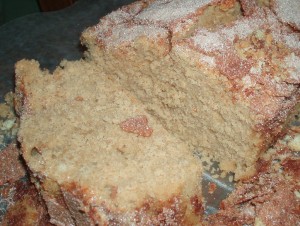 Cinnamon Coffee Bread
I am also impressed with how easily the bread came out of the baker, particularly because it was so moist, I expected it to fall apart, but it held together quite nicely.
Next up on my baking list is hubs favorite banana bread and I'm sure the Romertopf will get a great work out this holiday season as I make breads for gift giving and holiday gatherings.
The Romertopf Bread Baker is available in a wide variety of shapes and sizes. The standard bread baker measures 7 1/2" x 9 1/4", the French/Italian baker measures 4" X 13", the round loaf baker is 11" in diameter and the four piece mini baker measures 4 1/4" x 3 1/2" each.  All would make a great addition to your rural kitchen or a lovely gift for your favorite baker.
For more information on the Reco Romertopf Bread Baker and other Reco products, visit http://www.reco.com
Disclosure:  I received product from Reco for review purposes.  All thoughts and opinions are that of Rural Mom.