I have two main philosophies for card making:
1) Recycle and/or use what I already have on hand
2) Keep it simple (fancy is fun, too… I'm referring to simplicity in design and function.)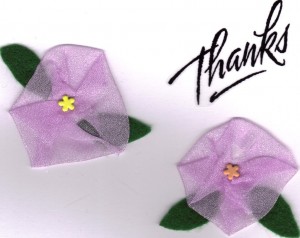 The card creation pictured utilizes left-over scraps of fabric, felt, colored brads, and a "Thank You" sticker. This fabric flower design can easily be transferred to any number of craft projects, such as gift bags, scrapbooks, or picture frames.
Use these easy instructions to piece together a fabric flower for your next paper craft project:
1) Cut a 6 x 6 inchs quare piece of fabric (or larger, basically cut the square about twice the size you wish the finished flower to be.)
2) Cut leaf-shaped pieces from fabric, felt, or paper.

3) Fold one end of square fabric into the center of the square. Twist end slightly to "pucker" fabric into flower shape. Repeat with each end of the square fabric, overlapping ends slightly in center (to allow brad to pierce all ends of fabric simaltaneously.)
4) Use a small razor knife or eyelet tool to poke a hole through center of fabric flower. Insert brad through hole.
5) Use a small razor knife or eyelet tool to poke a hole through paper you are attaching fabric flower to. Insert brad and secure flower to paper.
6) Slip leaves under fabric and secure with tape or glue.
Repeat as often as you like to create a lovely fabric floral garden for your crafts!