When it comes to our storage room, I have what the authors of Pretty Neat 
refer to as "organizational inertia."  Perhaps, extreme organizational inertia because the very thought of tacking that space holds me fast to the spot I'm sitting in or sends me running for the hiking hills outside.
In my head, I picture this beautiful little space where my hubby's odds and ends all have a handy little workshop table to rest on and in, my crafts have an amazing wall organizer equipped with a lovely drop-down crafting table, my books have cool cubby holes to sit in, and the linens… well, you get the picture.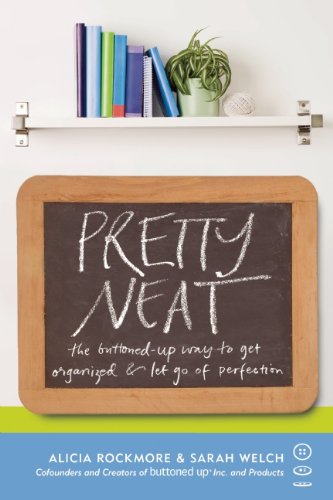 Instead, I have this hodge-podge of mess piles and storage boxes arranged in no logical order and pose, abet a neat, eye-sore.

So, the book Pretty Neat: The Buttoned-Up Way to Get Organized and Let Go of Perfection grabbed me from page one by begging me to let go of my perfectionist ideals and approach my storage room clutter with a healthier, more realistic plan and purpose.
While I haven't started the project yet (hold up, don't chastise me yet… I'm knee deep in my last semester of school, working, volunteering for the library teen program, and preparing for a major business event…)
I now feel well equipped to do so.
I also feel better equipped to handle the day-to-day chores and home organizing efforts with a wealth of realistic advice and clever tricks on hand in Pretty Neat.
I'm looking forward to using the model in the "Temper Those Toy Tsunamis" chapter this summer to get a better handle on my son's playroom and the "Tame Your Inbox" chapter to work on better organizing my work, volunteer, and blogging activities and clutter.
Pretty Neat
certainly speaks to my DIY Rural Mom spirit, too, as the solutions do not involve purchasing loads of organizing products but rely more on making the most of what you already have.  The guide truly speaks to the modern mom who deals with unpredictable schedules and cleaning challenges.
If you have "organizational inertia" in any aspect of your life, this is certainly the guide for you!  Highly recommended, helpful read.